Upcoming Events For Your Information
Galveston Republican Women has a Booth at Saltwater Garden Club's Annual Holiday Market
Adopt-A-Cop Galveston, Texas operates under the auspices of The Friends of Galveston Police Department which is a 501(c)(3) which will issue a tax donation receipt.
Financial donations are accepted and appreciated to ensure no Officer is overlooked.
Please contact Marcy Hanson, Chapter Coordinator at 409-771-2401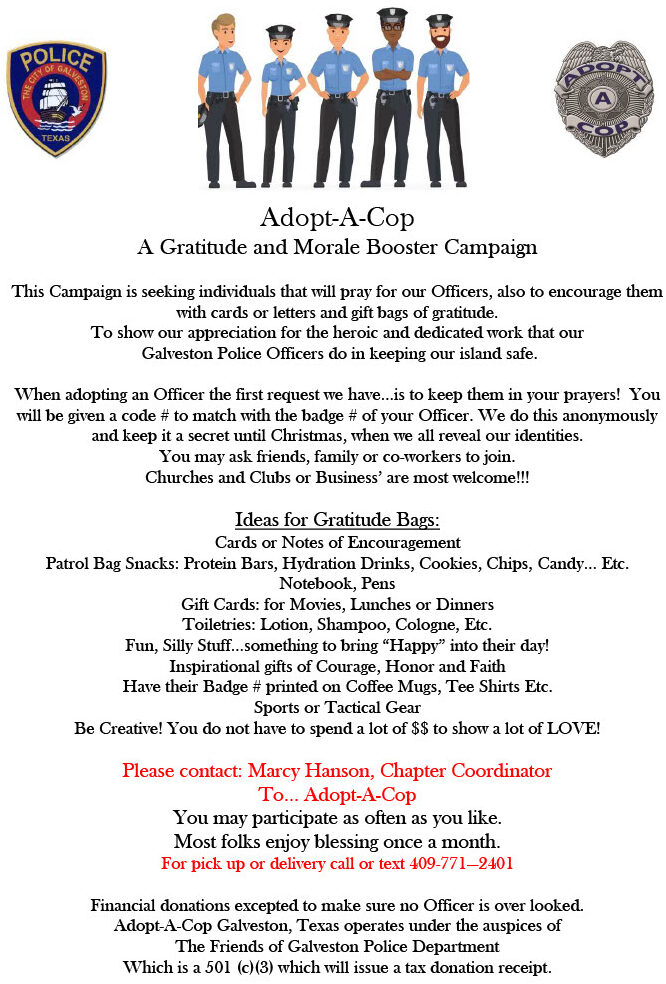 For event and meeting info for the "Galveston Island Pachyderm Club",    Click HERE
Application for Precinct chairs are now available.
Click the links below to view/print the info.
Application for primary Ballot
Application for primary Ballot instructions
THANK YOU VOLUNTEERS
-August 2023 Hours Due-
You have been hard at it supporting GRW, our Republican candidates and the Republican Party. It's time again to report the hours you've spent. It's EASY TO DO – just jot down the hours you've spent.  I don't need details – just hours.
SEND YOUR HOURS TO IRENE HENRY, PAST PRESIDENT, ASAP

AT irenem.henry@sbcglobal.net .

(You can also just click the "Volunteer Hours" menu item to report hours)

THANK YOU AGAIN FOR YOUR SUPPORT AND DEDICATION TO GRW AND TO THE REPUBLICAN PARTY.

Betty Henry
 President, Galveston Republican Women
GRW is a member of the Texas Federation of Republican Women (TFRW), a volunteer army unmatched by any other women's organization. TFRW makes it possible for women to influence how local, state, and federal government manages such critical issues as health, crime, education, taxes and financial security.